The Ranger 24
Mindful Farmer Mobile Coops are an innovative tool for backyard hobbyists, homesteaders, and small farms interested in raising healthy hens sustainably. Designed with regenerative livestock practices in mind, this semi-automated coop promotes access to fresh grass, while improving soil and hen health. Additional benefits include clean eggs, reduced feed costs, and reduced chore time.
Shop now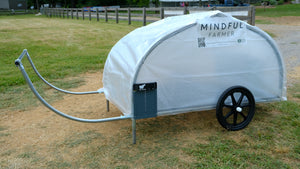 The Ranger 24 is constructed much the same way as our hoop houses. Using 1 3/8 inch galvanized steel tubing and 11 mill woven plastic allows the tunnels to be both lighter and significantly stronger than typical wooden coops. 

The combination of woven plastic and shade cloth allows the coops to be run like a warm greenhouse in the winter and a cool shade house in the summer. 

An automatic door opens and closes with the sun to release hens on to fresh grass in the morning and secure hens each evening. 
An external rollaway nest box ensures that no hens sleep in the nest box—meaning clean & unbroken eggs. Additionally, a slatted poultry floor inside the coop allows droppings to fall through, requiring little to no maintenance or poop management. 

Woven plastic is predator resistant and extremely strong, however we do recommend electrified poultry netting always be used to protect hens. We recommend that birds are moved to fresh grass frequently before bare soil is exposed. 
Howe it works in our backyard:
We rotate 12 hens weekly around the yard in a 15' x 15' electric poultry net. Eggs are collected three times a week and the coop is moved once a week.