Built to Last.
Mindful Farmer Tunnels are designed with the needs of small scale farmers and backyard producers in mind. Easy to install, cost effective, and multi-functional, these structures will last a lifetime and produce higher quantity and quality of food than you ever thought possible.
Our tunnels have been designed with affordability and durability in mind and meet the demands of our Southern weather extremes without being under nor over-engineered or lacking in features.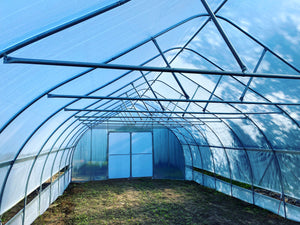 Our unique design
Mindful Farmer high tunnels and greenhouses are built to last and designed for the serious hobbyist, side business, or professional. High tunnels come in a variety of sizes and feature a gabbled roof (to shed snow), polycarbonate door, and braced end-walls. Our smallest (14' x 18') mobile units feature four 2' ground anchors making it moveable but still resistant to damaging storms. Larger sizes of hoop houses (see sized below) are customized to your specific needs and are built for all season growing. Open the doors of the high tunnels, roll up the sides, and cover with shade cloth in the summer to keep plants cool. Close it up tight to grow gorgeous greens or cut flowers all winter long. Our non-mobile units utilize 16 gauge 1 3/8" galvanized steel for bows with 14 gauge steel pipe is used for ground posts which are driven 2.5 to 3' into the ground on 4ft centers.
Trusses support tunnel bows wider than 14' and where designed to also serve as trellising for high-value vining crops.

We are an approved vendor with the NRCS for the EQIP Cost-Share Program.